Remember the dimpled actress Kulraj Randhawa, who was last seen in the woman centric film Needhi Singh??
This update about her was shocking!
Well, she's the latest victim of death hoax on social media.
Social media has become a platform for sharing information and facts. You might just come across a fact you haven't known but the problem here is the authenticity of these facts.
Most of the times, the so called facts that go viral on social media, turn out to be a rumour. But we need to be alert when we come across certain things and should use our brain to believe on only those news pieces, which are verified, before passing them on to others.
Recently, while scrolling through the feeds of my social media account, a post startled me. Did I just see Kulraj Randhawa's picture with a caption saying 'Actresses Who Committed Suicide'??
The bubbly actress committed suicide? When? How? Why?
A million questions started popping up in my head and I immediately opened the link to know more.
The link had a list of actresses who had committed suicide. Running down the list and knowing about most of the cases already, I saw Kulraj's happiest picture with a description. After reading the description I sensed the mistake and took a sigh of relief.
The website did the blunder of posting her picture under late actress Kuljeet Randhawa's name tag.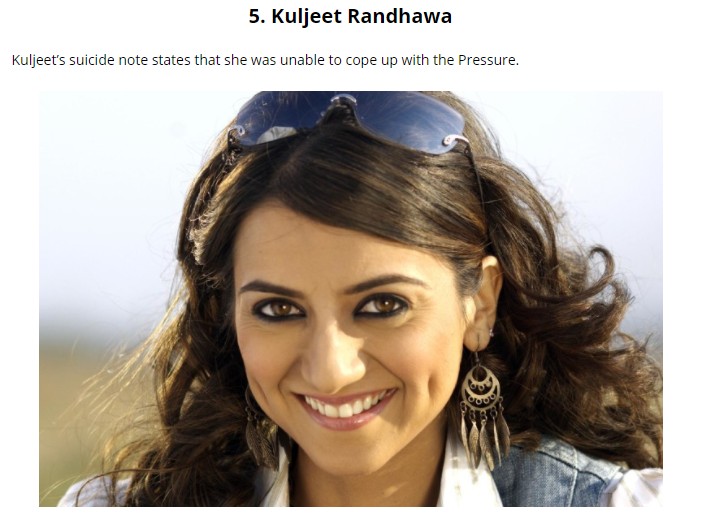 Kuljeet Randhawa Suicide Case
Kuljeet was a famous face in the television industry. On 8th February 2016, she committed suicide by hanging herself in her flat in west Mumbai. Kuljeet Randhawa was popular for her Sony serial C.A.T.S. Randhawa (29) left behind a two-page suicide note saying she was taking the drastic step since she couldn't cope with life's pressures.
But how could the blogger fail to recheck the picture he/ she is using for such a post??
It is not only this website but a couple of others too, who have committed the same mistake. They seem to have confused Kulraj with Kuljeet. All we have to say here is that Kulraj has a very vibrant personality and her fans will surely be shocked if they come across such misleading piece of information.
We would like to make it clear for all Kulraj Randawa fans that the actress is absolutely hale and hearty.
Have a look at the blundersome post:
http://theviralmedia.in/8-bollywood-actresses-who-committed-suicide/4/
Media houses must verify the facts and the pictures they use. It is our responsibility to write sensibly as the audience believes in what we write and post.
---