'Lockdown' being the most talked-about word of 2020, has inspired many artists around the world to productively utilize this time and channelize their thoughts in crafting meaningful compositions during this uncertain period.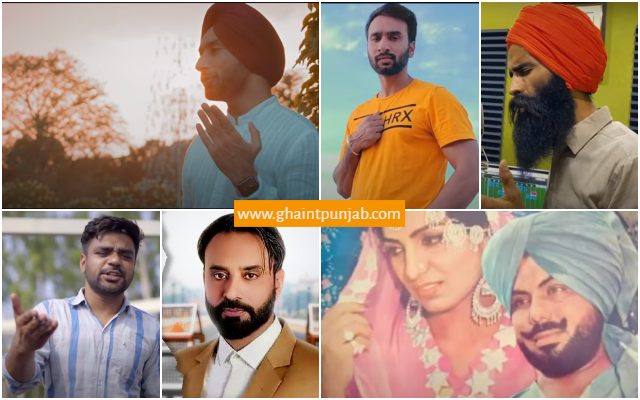 We bring to you an assorted list of Punjabi songs that revolved around Lockdown as the central theme.
'Kuchh Badal Geya Ey'
Singer & Lyrics - Satinder Sartaaj
Dr Satinder Sartaaj 'the promoter of Punjabi culture, tradition and folk' always pens profound lyrics, and wins hearts with his melodious voice.
His song 'Kuchh Badal Geya Ey' reflects on the positive changes that have taken place during the lockdown. As grateful as always, Sartaaj praises the changed selfless attitude of people around him, he admires the joyous atmosphere where nature is prospering and he ventures into new tasks of life with excitement as now he has ample time for his self-growth. His spiritual inclination, rich Sufiana Qalaams that flow melodiously through him are a result of his efforts to learn from the teachings of Baba Farid, Bulle Shah, Sultan Bahu, Shah Hussain and many mystics like these.
This time too when many artists were taken aback by the pessimist atmosphere during the lockdown, he wowed his fans with his sensibilities.
2. 'Mazdoor'
Lyrics – Baba Najmi
Singer – Kanwar Grewal
Mazdoor is dedicated to those migrant laborers who suffered immensely during the lockdown. The plight of these poor laborers who leave their homes to work in other states because of circumstances became worse during the pandemic when they lost their jobs and daily wages due to sudden lockdown. The poor walked on foot for long distances and slept empty stomach fighting hunger and poverty. This song strikes a chord in the hearts of the listeners asking them to be grateful for having a roof over their heads and appeals to everyone to stand with those belonging to the unprivileged section of society in these hard times.
3. 'Lockdown'
Singer & Lyrics – Babbu Maan
In his usual satirical tone Babbu Maan questions why the astrologers have now stopped predicting the future. Next apologizing to his sweetheart for not being able to come to meet her, he takes a dig at Punjab Police saying he is afraid of being beaten by the police if he tries to go out of home and meet her during the lockdown. Captured at his studio, the song gives the message in an entertaining manner to sit at home and be safe.
Also Read: Bollywood Stars Who Had Featured In Punjabi Music Videos Before Becoming Famous!
4. 'Human vs Nature'
Singer & Lyrics - Debi Makhsoospuri
Debi's simplistic yet powerful lyrical compositions have always left a deep impact on his fans. In this song, he questions the misconceptions which humans had in their minds because of which they had taken everything in life for granted. Saluting to the frontline warriors he asks people to stay home and stay safe.

Giving a message to humans that our existence here is short and temporary, he suggests we should not be taken over by emotions of ego or greed and in future we should not fool around with nature which only invites death and destruction over humankind.
5. 'Lockdown'
Lyrics – Sony Thulewal
Singer - Jatinder Jeetu
Despite everything having come to a halt, the song glorifies the nature, the sun and the eternal relationship of friendship which have stood the test of time. Uplifting one's self-esteem and oozing in motivation, people are appealed to have faith in God in difficult times as God does everything for one's good.
Praising nature and showing gratitude to God for the fresh air, the fragrance of flowers; the song is a tribute to these powers of nature which spread love without any limits.
6. 'Lockdown'
Singer & Lyrics - Singga
With his masculine voice, Singga has been winning many hearts. With his song Lockdown, he suggests the unpredictable nature of life. People who took coronavirus as a small threat initially now are talking about how this virus has led to complete lockdown in many countries, proving it is not a small threat but a large scale life-threatening pandemic. Singga cautions people to be safe and not to put their lives and the lives of others in danger by committing the mistakes knowingly.
7. 'Lockdown'
Singer & Lyrics – Hardeep Grewal
With Hinglish lyrics, Hardeep Grewal creates an atmosphere for forgiveness by asking God to forgive everyone for the silent situation that has been created around them. As cities from Ludhiana to DownTown have come to a standstill, he asks God to clear minds and hearts in the same way as nature has been uncontaminated due to the lockdown.
Apologizing for the crimes done by the humans on nature, he admires the leisure of the village which is worthy in the long run. Innovatively, he describes the ways to overcome the situation and gives hope to emerge victorious from this situation.
8. 'Lockdown'
Lyrics – Lalit Sirhindiya
Singer – Sukhjeet Rockstar
A very practical portrayal of the situation and the division existing in Indian society, the lyricist pleads the people to lessen difficulties faced by the poor as their plight is worse affected by lockdown. With folded hands, the poor beg for a two square meal and remember how in good times the politicians had lured them with alcohol to grab their votes but in this deplorable situation, these politicians are ignorant of their problems.
Also Read: Blog: 5 Punjabi Celebs Who Are Actually Dropouts!
While no government scheme has been able to reach this deprived socio class of India, a true reflection of the society in which we live is presented in the song.
9. Baahr Laggeya Curfew
Composed & Sung by Jaswant Sandila & Parminder Sandhu
Last but not least we suggest you listen to this splendid rendition 'Baahr Laggeya Curfew' performed by Jaswant Sandila & Parminder Sandhu, composed years ago but apt for the situation which we all faced. With this hilarious composition, we hope for better times to turn up soon.
---