Punjabi cinema has by far been working on the prospect of singers turning into actors but we are seeing drastic changes in the field. There are many actors who play their supporting roles very well but don't get their due appreciation. Harby Sangha is one such underrated actor and we honestly don't know why he hasn't been put on the map till now!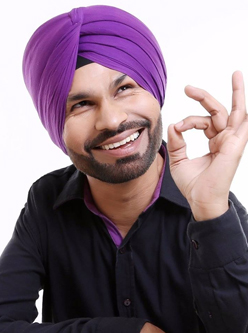 From a bling beggar to a rickshaw puller, Harby Sangha portrays himself as a versatile actor and has proved his flexibility in all of his characters.
Here are the 5 times Harby Sangha proved that he is an underrated gem of the Punjabi Film Industry:
Jhalle
Jhalle was probably the first Punjabi dark comedy film that had Binnu Dhillon and Sargun Mehta in lead roles. Teji is a friend of Binnu Dhillon who entertains the audience with his sheer comic dialogues. Harby Sangha as Teji had the responsibility to surpass his previous comedy roles and he did it with his great humor sense.
Laavan Phere
This rom-com movie revolves around a man who is trying to marry his lover but runs into a lot of trouble caused by his brothers-in-law and future father-in-law.

If you're dying to see how a typical Punjabi brother-in-law reacts, you've to see Harby Sangha play this character. Karamjit Anmol and Gurpreet Ghugghi were the other two brothers-in-law who were equally significant.
Marriage Palace
Marriage Palace is a complete laugh riot that revolves around Nimma's bride who is accidentally swapped with someone else's bride during the marriage ceremony. Harby Sangha as Bhalwan did a phenomenal job while playing the role of the other groom.
(Also Read: 5 Times Karamjit Anmol Stole The Limelight With His Brilliant Acting!)
Daana Paani
Daana Paani is a light-hearted movie that portrays a brilliant love story that deals with some family problems. Although Jimmy Shergill and Simi Chahal were in the lead roles, the supporting cast such as Gurpreet Ghughi, Harby Sangha, and Nirmal Rishi gave stunning performances.
Nikka Zaildar
Harby Sangha appeared in all three installments of Nikka Zaildar and as the sequels progressed, his roles were improved. In all three installments, he was seen showcasing his incredible comic talent.
(Also Read: Simerjit Singh is Called 'The Heroine Launcher' of Pollywood - Here's Why!)
Harby Sangha is the perfect example of different yet honest working. We hope he continues to entertain the Punjabi audience with his versatility.
Hope to see him get all the credits he ever deserved!
---