There is no denial that we tend to believe whatever we see in the mainstream media. But many of us actually fail to understand if the news story or anything we are consuming is part of a media trial or propaganda. Oh yes, this word 'propaganda' has been very much in use these days lately but we thought it is very important to show you the other side which you might have missed out or not even have thought of this way in relation to farmers' protest.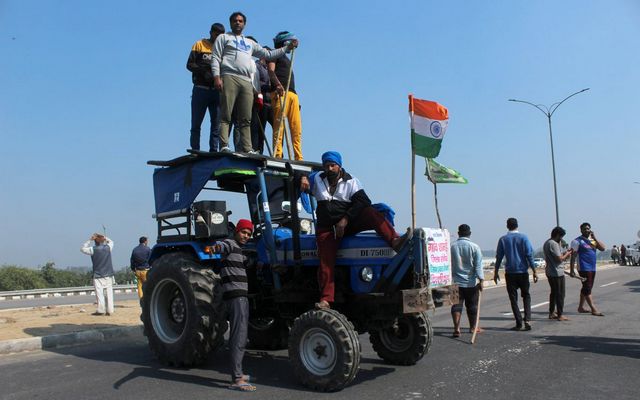 On republic day, the violence that erupted on the Red Fort was very unfortunate but labelling farmers as 'anti-nationalists' or 'Khalistanis' and deviating the farmers protest vision is very sad. Well, we don't comment on what is right or what is wrong but will leave it to you. So, please read the article till the end.
We are thankful to 'The Wire' for carrying out this important news piece.
After the violent protests at the Red Fort a mob of angry protestors carrying the Indian Flag and shouting slogans like "Desh ke gaddaron ko, goli maaro saalon ko (Shoot the traitors of the nation)", "Khalistaniyon ko bhagao (Chase away the Khalistanis)" and "Delhi police lath bajao, hum tumhare saath hain (Beat them up Delhi police, we are with you)", stormed the farmers' sit-in at the Singhu border. It was also reported that the mob had destroyed tents, threw petrol bombs and devastated the community kitchen that was run by the farmers.
Also Read: Who is Mahima Kaul? Why Is Her Resignation From Twitter Being Linked To Farmers Protest?
This obviously led to violent clash between the two groups. Most mainstream media about which we have already talked about had labelled this mob as group of 'locals' who were influenced by alleged separatists. As this news of armed raids at the Singhu protest site spread, independent journalists quickly pointed out that Bharatiya Janata Party supporters had disguised themselves as "locals" on the day. Many actual locals have levelled the same allegations in several ground reports. While most pro-government media claimed that these so-called locals were first attacked by the farmers, multiple videos suggest that these claims are misleading.
Also Read: Central Government To Take Legal Action Against Twitter On Farmers Issues
Alt News and independent journalist Mandeep Punia identified two of these protestors – Aman Dabas and Krishnan Dabas – both associated with the BJP. Punia had also raised questions on the role of Delhi Police. Later, he was arrested for allegedly preventing policemen from discharging their duty. He was released on bail after four days in custody.
As per The Wire's investigation links of many more of these alleged "locals" with the BJP and its affiliates was established. Apart from local BJP leaders, leaders of Hindu extremist organisations were present at the Singhu border with their cadres. Last year, some of these protestors were spotted at Shaheen Bagh and a month later in North-East Delhi, leading to large-scale anti-Muslim riots. This time around, the same set of protestors wanted to clear the farmers' blockade.
Reportedly, farmers have also been deprived of the basic necessities. Roads were cemented with a bed of nails, concrete walls erected between barriers, multi-layer barricading and lines upon lines of police personnel.
All such scenarios have made things difficult for the farmers to protest and simultaneously gave rose to other issues deviating the purpose of farmer's protest.
---