'Dharti', a political thriller drama produced by Jimmy Shergill, JS Kataria and Darshan Singh Grewal was released in 2011. This month it completes 10 years of its release so we thought of talking about the making of this iconic movie to the director himself. So, go ahead reading what he has to say!
The movie becomes even more important as it was totally different as the genre was not attempted in Punjabi Cinema before as a full-fledged subject earlier. After the super success of Mel Karade Rabba, Navaniat Singh could have played safely by making another Punjabi cinema friendly genre but he took completely different route with a political drama as his next film.
Therefore, we thought of talking to Navaniat Singh to get some sneak peeks of this masterpiece. So, go ahead reading!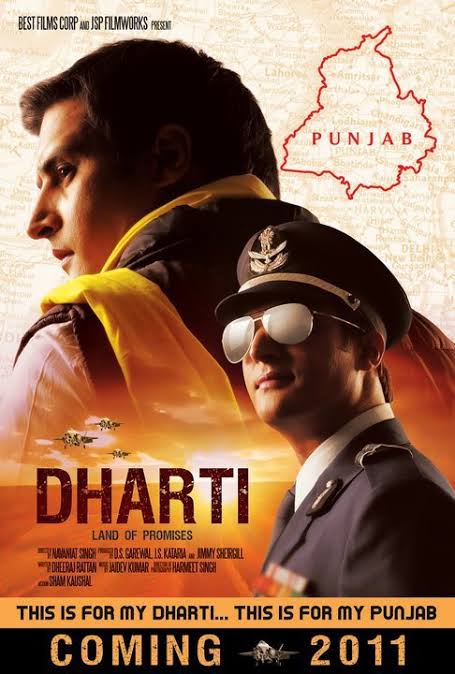 Navaniat Singh talking about the film says, "For me Dharti as subject was now or never. After Mel Karade Rabba producers had trust on my capabilities. But deep down I knew it's going to be a bit difficult in executing this genre on celluloid."
The movie was written by Manoj Jha with an ensemble cast featuring Jimmy Shergill, Rahul Dev, Surveen Chawla, Rannvijay Singh, Japji Khaira, Binnu Dhillon, Randeep Varinder, Shavinder Mahal, Urvashi, Harpal Singh, Ranjeet Sharma and Prem Chopra in lead roles. Besides that, guest appearances by Jaspal Bhatti, Savita Bhatti and Gippy Grewal. The movie was produced by Jimmy Shergill and the film was planned keeping him in mind for lead role.
SELECTION OF CAST:
Talking about the cast Navaniat Singh says, "For Nachhatar Singh's character I wanted someone who could look like a negative and a positive character at the same time. Rahul Dev fits well for that unconventional role. I went to narrate Baljit Singh Wadala character to Prem Chopra ji at his home. I feel so fortunate that I got to work with some of the great artists of golden era. He listened to his character like a newcomer and loved it. For Baldev Singh's character I wanted someone that no one could guess that this character would turn out to be mastermind behind everything, Shavinder Mahal sir was perfect for it. It was so nice of Jaspal Bhatti Ji and Savita Bhatti ji to accept brief roles in the film.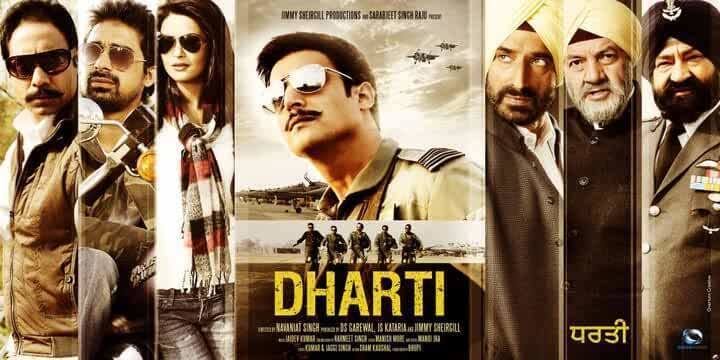 The film marked the debut of Surveen Chawla and Ranvijay Singh in the Punjabi cinema. Since, Rannvijay was popular among the younsters due to his MTV Shows, his role was also based as a youth leader of the student association. Japji Khaira had taken a break from movies right after her first film, Dharti turned out to be a perfect comeback for her. Though Jaspal Bhatti was part of the film, but unlike the trend, film was not having any forced comical character in it.
Ten years back when film was being made, Akali Dal was in power, did you face any sort of objection by the then government over the political drama or due to similarities of characters with real life political figures?
No, we did not face any objection. While it was being assumed Prem Chopra ji's character was based on a senior politician but that's not true. We created that character keeping Bala Saheb Thakrey in mind. The character Prem ji was playing was of a powerful man without being in power. He was not eyeing on CM's post. It was a fictional film. Coincidentally, Manpreet Badal left Akali Dal to form his own political party, which was a huge news in Punjab politics. So, when our movie was being made, it was confused with our movie as Rahul Dev's character also leaves the political party over misunderstanding. But our script was written much before than the actual turn out of events in Punjab Politics.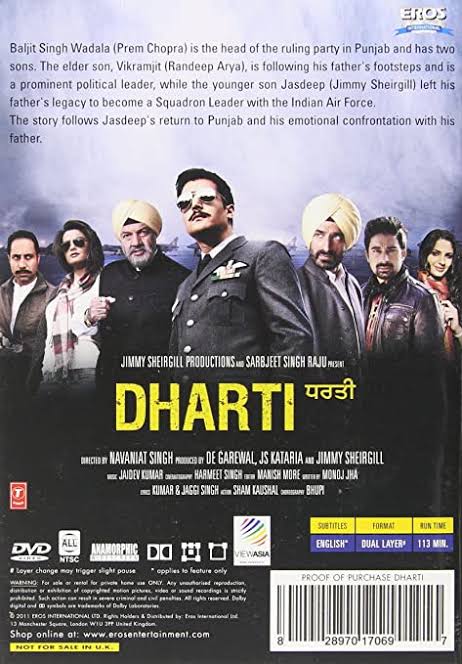 The film was compared to Prakash Jha's Rajneeti, which was released prior to Dharti. So, your team was also inspired from that film?
No, the idea of Dharti was being worked upon when we were making Mel Karade Rabba. The film required a big canvas, Jimmy Shergill was playing an Air Force Officer. Our team took special permission from Delhi Head Quarters to seek permission for shooting it at real Air Force Station. It was a proud feeling to shoot our film at real locations in presence of real Air Force Officers.
While we kept shooting all the sequences and sub plots one by one based on script from the crowd scenes to rally scenes, for a scene we were to show curfew situation, we did it quickly, then there were couple of scenes on Media News. The very small scene with major detailing to keep it up with the continuity. The climax was shot in cold rainy day of December in a stadium. The kind of subject Dharti had,to present on big scale was a task but real fun was on editing table to make it a crisp film. Also Read: Celebrating 30 Years Of The Release Of Cult Classic 'Badla Jatti Da' - Trivia Inside!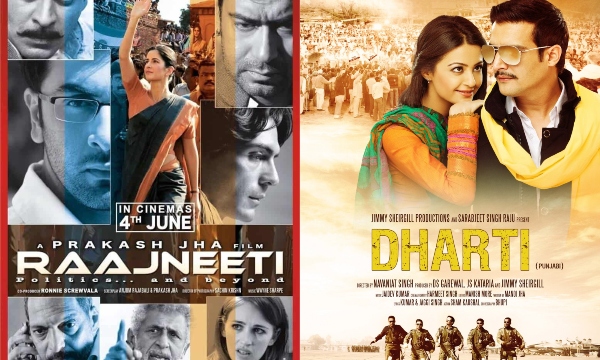 FILM GOT A GOOD OPENING!
Dharti did well, but I must admit it was not Mel Karade Rabba. We were appreciated for attempting something different. Our film ends on a very positive note with new hope.
In all these years if Navaniat ever thought of its sequel?
Yes, in fact Jimmy Sir too want to come out with Sequel of Dharti. But there has to be some solid script for the sequel and he signs off!
TRIVIA
1.Film was screened at prestigious IFFI (International Film Festival of India) at Goa.
2.Dharti had a clash with Bollywood movie 'Dum Maaro Dum' starring Abhishek Bachchan and Bipasha Basu. Interestingly, Dharti scored over it at box office.
3.According to a box office site, film grossed more than seven crores against its budget of four crores.
4.Raj Babbar was considered for one of its principal character.
5.Though Film was appreciated for its subject, but it was panned for its song "Gaddi Modhan Ge"
6.Gippy Grewal was seen in its promotional track Sarkaaran.
7.Gippy Grewal's brother Sippy Grewal had distributed the film in overseas.
8.It's writer Manoj Jha had worked under Tigmanshu Dhulia, Jha is a knowledgeable person on Indian Politics.
9.On Wikipedia it's mentioned that Dharti was initially planned as Hindi Film, but it's not true at all. The film was planned only in Punjabi.
10.It's dubbed Hindi version has been shown on popular Hindi TV Channels too.
11.Actor Veerendra's son Randeep Veerendra forayed back to acting after quite a gap, he played the role of elder brother of Jimmy Shergill.
12.Film was nominated for Best Actor,Best Villain,Best Supporting Actor,Best Music etc awards.
13.It took the trophies for Best Film(Critics),Best Director for Navaniat Singh(Critics) and Best Debut Awards for Rannvijay Singh & Surveen Chawla.
14.Navaniat Singh's Father Harmeet Singh had done the cinematography of the film.He won the Award for Best Cinematography.
15.Hindi Film Directors Tigmanshu Dhulia & Anand L Rai were thanked in the opening credits of the Dharti.
16.Makers of Shahid Kapoor's Mausam were miffed with Dharti's first look poster,as both film's posters looked similar.
17.Real Air Force officers featured in the film,during Jimmy Shergill's entry scene.
18.Many real life news anchors of different TV Channels appeared in the film during media coverage or news studio scenes.
---