Recently, Bollywood actor Yami Gautam surprised her fans as she got married to Uri director Aditya Dhar. Ever since the day of her marriage, fans were drooling over the couple's photographs.
Yami looked absolutely stunning in the recent photographs shared. In one of the photographs, Yami can be seen wearing a red saree flaunting her 'choorah' and 'kaliras'. This particular photograph got a hilarious response from her friends from the entertainment industry. Actor Ayushmann Khurrana wrote, "Poori Jai Mata Di waali feelings aa rahi hai. Aap dono Jwala ji gaye thhe? (with a halogen smiley and yellow heart emoji)" whereas Vikrant Massey poking fun at her wrote, "Pure and pious like Radhe Maa" but Vikrant's comment gave birth to a new controversy as the comment did not go well with the actor Kangana Ranaut.
Responding to Vikrant's comment, Kangana wrote, "Kahan se nikla ye cockroach….lao meri chappal". (From where did this cockroach come. Someone get my slipper). Well, the duo's comment created a divide where some of the fans criticised Vikrant and supported Kangana and vice-versa. Also Read : Did You Check Out These Adorable Photographs From Yami Gautam And Aditya Dhar's Wedding?
Not just this, Kangana got infuriated on one of the Ayushmann Khurrana's comment also. In another photograph shared, Ayushmann had described Yami as 'simple' and 'real' and also wrote 'God Bless'. Responding to the comment Kangana wrote, "As a matter of fact made up and artificial is most simple because it is so basic and easy to read that kind of show off but ancient and traditional especially when our history is older than the time itself makes it most layered and complex so what is organic isn't necessary simple if you got perception to know the complexity of subtlety".
After this comment, Kangana was largely trolled by netizens. One of the users wrote, " twitter ki kami poori karre madam apne…yahan bhi bhasad machare uno." Whereas another user wrote, " i need your drugs ma'am. Please help. Boards ace krna hai." Also Read : Dakuan Da Munda' Actress Pooja Verma's Latest Pics Are Setting Social Media On Fire
Well, Kangana has praised the beautiful bride. She wrote, "Himachali bride is the most gorgeous, looks divine like a Devi ..." and infact shared the photograph on her Instagram story and wrote, "Older than tradition and time. Nothing more divine than a raw mountain girl turned bride #himachalpradesh."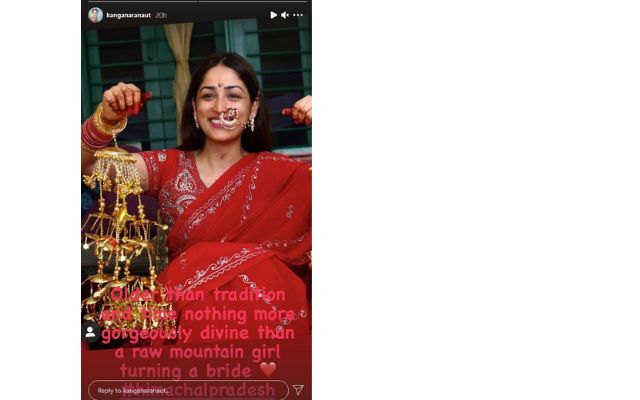 ---