Not many friends remain friends in the glamor world. But few lucky ones are blessed with real friends. One such duo is YoYo Honey Singh and Alfaaz. They were part of the boy band Mafia Mundeer and ever since have been together. It is a fact that Honey and Alfaaz have been by each other's side through thick and thin. Even when Honey was out of the industry and had no touch with media, it was Alfaaz who gave out a statement and clarified numerous rumors about him.
Also Read: Finally Alfaaz Opens Up About The Honey Singh - Badshah Catfight!
On 10th February 2019, Punjabi singer Alfaaz got hitched with his lady love Navjot (Mona) in his home town Chandigarh. Yesterday, the newlywed couple hosted a grand reception for their friends and family. This reception was a star-studded affair. Many Punjabi celebs were seen as invitees. The likes of Jazzy B, Ranjit Bawa, Rajvir Jawanda, Gagan Kokri, Lakwinder Wadali, Karamjit Anmol, and many others were present at the reception.
But Alfaaz's dear friend YoYo Honey Singh was the one who caught our attention. YoYo Honey Singh was present at the function with his wife Shalini Singh. He seemed to be elated for his friend and was seen dancing with all his heart. After a long time, we saw Honey looking so happy.
But in the pictures and the videos that we saw, a question just crossed our mind. Are Honey and Shalini expecting their first child? Shalini looked fuller in the videos and the pictures and we are guessing that a piece of good news is around the corner. Honey and Shalini have been together since long, they got married in the year 2011. Honey dated Shalini for many years before he got married to her. The two reportedly were classmates and fell in love. The couple kept the relationship hidden throughout their schooling and were in a long-distance relationship when Honey flew off to Trinity College (United Kingdom) to complete his education. Honey got hitched to Shalini secretly as the two wanted to stay away from paparazzi.
Also Read: Who Is This Turbaned Guy Next To Yo Yo Honey Singh? He's Singhsta - Know More About Him!
When we saw the lady during one of her tv show appearances, she looked pretty lean but at Alfaaz's wedding, Shalini wore a black pajami suit and was unrecognizable. Has she just put on some weight or is it something else??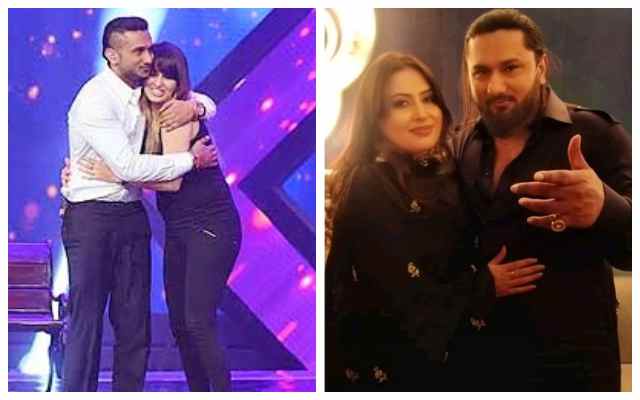 Well if the couple is actually expecting a child then we're super excited but if not, then all we can say is that both Honey and Shalini look pretty adorable with those extra kilos!
The newlyweds Alfaaz and Mona looked stunning at the reception. Alfaaz chose to wear a maroon black tuxedo and Mona wore a similar color gown.
---