The wave of discontent descended on Delhi in November with peasantry struggle. Capturing the heart and imagination of the country, it has snowballed into a massive movement. Along the way, the scope of the movement is getting widened day by day, pulling in support from retired bureaucrats, defense personnel, artistes, sportspersons, intellectuals, besides a growing range of citizens. Adding to the list of celebs coming out in support is booker prize winner author-activist, Arundhati Roy.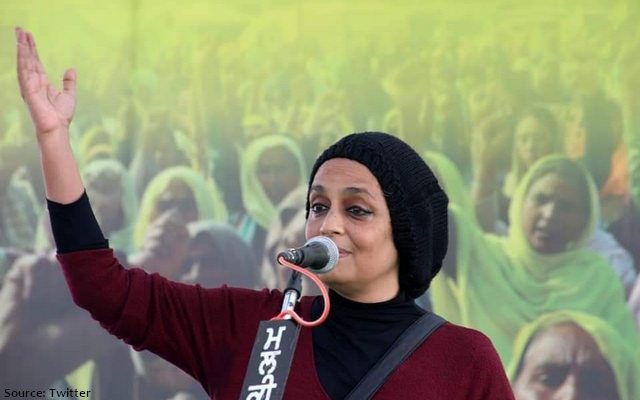 The celebrated author addressing the gathering of protesting farmers at the Singhu border is a significant development. Not just because she is an internationally acclaimed author but also because it adds a new dimension in the light of the central government's sinister agenda of setting a narrative against the peaceful protesters. Also Read: Harinder Bhullar Shares Heartbreaking Picture Of 89-Year Old Iconic Cinema House Raja Talkies Ferozepur
While Roy is revered abroad, at home, she is derided as a terrorist sympathiser, and a Naxalite. It is this dichotomy that makes her a potent figure adding fuel to the movement. When the opposition parties in a democratic set-up fail to deliver their job, any voice of dissent is disparaged as 'anti-national'. Arundhati Roy is arguably the most famous and vocal 'anti-national' writer. Be it the citizenship law or the abrogation of article 370, Roy has always been vocal against injustice and wrongdoings. Also Read: The Glorious History And Tradition Of Prof. Mohan Singh Mela
"I wanted to come in the initial phase of the protest but held myself back fearing that my visit would be backfired tagging the farmers as Naxalites or Maoists. But since they have started calling you as 'terrorists', we are in the same league now, said Roy at the Singhu Border. "Apko Namkaran Mubarak Ho", underlined Roy. Also Read: Special Interview With The Golden Girl Of 70s - Seema Kapoor
She might have been treading cautiously for 'obvious' reasons but she couldn't hold herself back for too long. She felt that it was the right time to meet the brave people protesting against all odds. She said that the entire country is watching this movement keenly with admiration and solidarity. Also Read: Maamla Garbar Hai - The Game Changing Urban Punjabi Movie That's Now A Cult Classic (Trivia Inside)
Applauding the protesting farmers, she said that their sustained struggle is the biggest worry of the government. Fearful of the sustained resistance, the government is now trying to break the movement by dividing the farmers. Roy advised them to be cautious of the government's nefarious moves.
Farm unions and farmers, in general, have traditionally been divided in India. The best part of this movement is that it has bundled the splinter groups together, bringing them on a single platform to fight for a common goal. Exactly the reason, support is pouring in from all across the country. Also Read: "Hindi Filmmakers Had A Strange Mindset About Punjabi Film Actresses"- Sonika Gill
One may argue, what if this movement fails? Well, on a personal note, one can not see it in linear terms that it is only a question of win or lose. What is important is that no matter what the final outcome is; still "success" is achieved in the process. Also Read: Punjabi Singer-Songwriter Shree Brar Arrested For Promoting Violence & Gun Culture In His Song
---