The recent episode of controversial reality show Bigg Boss 15 saw the task, 'jungle mein khunkhar dangal'. The task was between junglewasis and gharwsis ofcourse where 'Junglewasi' contestants turned into dacoits. Shamita, Nishant Bhat and Pratik Sehajpal were supposed to name a target contestant and then "kill" them by capturing and announcing the same in front of a camera.
After the task began, the 'junglewasi' contestants asked Afsana Khan to go inside the main Bigg Boss 15 house and block Shamita from scoring a point against them. When the singer tried to block the actress, she got irritated and declared that she doesn't want to play and ran off to the bed and lied down. Pratik Sehajpal tried to calm her down but she said that she can play with mind and that she will not play like that. Also Read : Music Record Label Geet Mp3 Opens Up A New Office In Mohali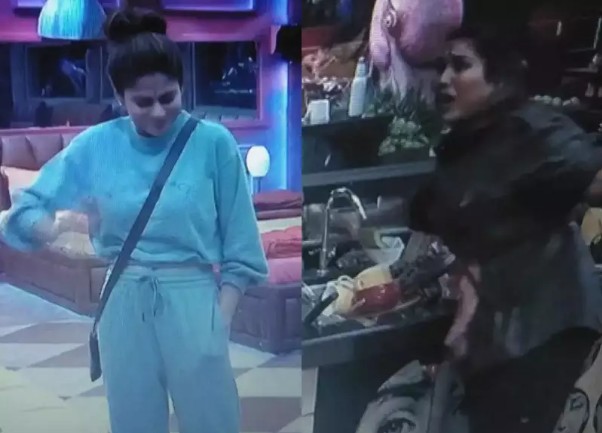 Meanwhile, Karan Kundrra had 'Kheer' from the main house and offered it to his friends. It was then, thirsty Afsana lifted a glass and drank it thinking it was water. After she had the water she asks Karan, "Why is the water tasting so weird?" To which, he says that it was oil. Afsana confirms the same with Shamita and it turns out that Afsana drank oil. Also Read : "Creating Content For OTT Is A Bigger Challenge": Director Prem Singh Sidhu
Shamita then asked Afsana to drink plenty of water. In the jungle area, when Afsana was the target of the 'Gharwaasis', Pratik Sehajpal was waiting for a chance to stick the sticker on Afsana. However, Tejasswi Prakash, Donal Bisht and Vidhi ask Afsana to run from there.
Afsana runs and had an ugly fall on the ground and hits herself badly and howls. Also Read : 'Money Heist' Actor Ajay Jethi Forays Into Punjabi Web Series World!
Though, Pratik and everyone else gathered to lift her up. Donal blamed Pratik for her fall but Pratik defending himself stated that the girls were pressuring her to run. Karan Kundrra, Nishant and everyone else gather and lift Afsana off the floor. Later, she was seen asking Bigg Boss for ice.
---