Popular comedian and actor Kapil Sharma owing to his sheer hard work has made a name for himself. Today, where ever he goes, he is treated with a lot of fondness and affection. His loyal fans and followers never miss a chance to attend his live comedy shows.
But do you know there was a time when the comedian was slapped and kicked out from the sets of Sunny Deol and Ameesha Patel starrer 'Gadar: Ek Prem Katha'.
What exactly had happened? Read to know! Also Read : Guru Randhawa's Car Collection – Truly A High Rated Gabru!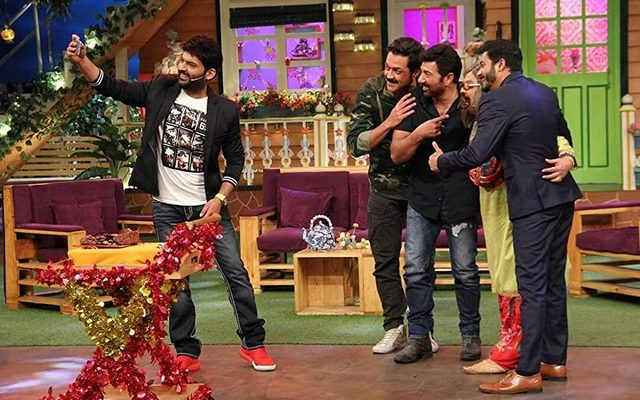 Actually, in an interview, Teenu Verma, action-director of the film had once revealed of slapping and kicking Kapil Sharma out from the sets of Gadar: Ek Prem Katha about which even Kapil had mentioned when Sunny Deol had appeared in his show. Also Read : Hey! What Happened To Ameesha Patel's Debut Punjabi Film?
Teenu while sharing the anecdote revealed that they were shooting with a huge crowd and everyone was instructed to run towards the train but as soon as he called action, the actors started to run towards the train. However, there was this one boy who was running in the opposite direction and that was none other than Kapil Sharma.
Hilarious, no? But go ahead reading because the story doesn't end here!
So, Teenu while asking him to follow the instructions, told him, "Teri vajah se one more hua hai shot (We are doing one more take because of you)."
He continued by saying that they started rolling again and his entire focus was on Kapil. Once again, the comedian ran in the opposite direction. He then lashed out at Kapil and said, "Maine camera chhoda aur main uss bade ke paas bhaaga. Aur jaise hi pakda, phaaad (makes a slapping gesture), ek kaan ke neeche diye aur maine bola isko bahar nikaalo. (I put the camera down and ran towards him. The moment I caught him, I slapped him. Throw him out off the set.)" Also Read : Sidhu Moosewala's Wishlist For Punjab
On the other hand, Kapil while sharing the same incident with Sunny on the show had stated that he wanted to stand out, thus, he ran in the opposite direction. According to him, he would be lost in the crowd and this was the only way he could figure out among the sea of people.
Well, that's cute na? Such innocent and hilarious story indeed!
---