Rajinder Singh Bedi had started a Punjabi-Hindi bilingual film 'Rano' with Geeta Bali, Dharmendra and Meena Rai in 1964 which was an adaption of his novel, 'Ek Chadar Maili Si'. But during the shoot of film in Punjab, Geeta Bali got smallpox and passed away (in 1965) after sometime leaving her most ambitious film incomplete.
Almost two decades later, a film on the same novel was made titled, 'Ek Chadar Maili Si' (1986).
We talked to its director Sukhwant Dhadda who had directed Hindi-Punjabi films like 'Siyasat', 'Antim Nyay', 'Pind Di Kudi', 'Choodian' etc. but till date his debut directorial, 'Ek Chadar Maili Si' is remembered as one of his best works.
Sukhwant Dhadda had done the film making course at FTII where veterans like David Dhawan, Manmohan Singh, Rameshwari, Daljit Kaur, Vidhu Vinod Chopra, Gurbir Singh Grewal, Suresh Oberai etc have been his batchmates.
We spoke to the ace filmmaker where he shared several BTS of the film with us. Go ahead reading the exclusive trivia!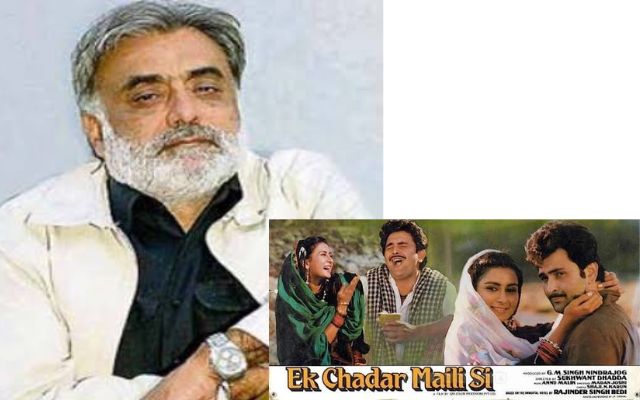 PLANNING ABOUT THE FILM:
"I had helped a friend in his business in which he made good profits. As a gratitude he offered to produce a film for me. That's how 'Ek Chadar Maili Si' got planned. Bedi Saab (Rajinder Singh Bedi) had given the rights of the film to us", shares Sukhwant Dhadda. Also Read : Jigri Yaar, A Film Which Inspired 90s Super Hit Hindi Film
It was merely a coincidence that 'Ek Chadar Maili Si' had Hema Malini (Dharmendra's wife) and Rishi Kapoor (Geeta Bali's nephew) playing the roles which were meant for Geeta Bali and Dharmendra.
On rumours about Dharmendra warning Hema against doing the film due to the fate of Rano, Sukhwant Dhadda shares, "I have no idea. Hema ji never told me this. At times things are speculated in the film world."
ON CASTING A NON-PUNJABI ACTRESS AS PUNJABI WOMAN
"In the film Hema ji was given the look of a village Punjabi woman and she looked the part."
Produced by G.M Singh, 'Ek Chadar Maili Si' had Hema Malini, Rishi Kapoor, Poonam Dhillon, Kalbhushan Kharbanda, AK Hangal, Deena Pathak, Gita Sidharth, Amrik Gill Adarsh Gautam, Harjit Walia, Gopi Bhalla, Soni, Makhan Singh, Hemraj Sharma and Shammi in the lead roles. Also Read : Celebrating 15 Years Of The Release Of Mitti Wajaan Mardi – First Punjabi Film To Witness New Era Of Multiplexes!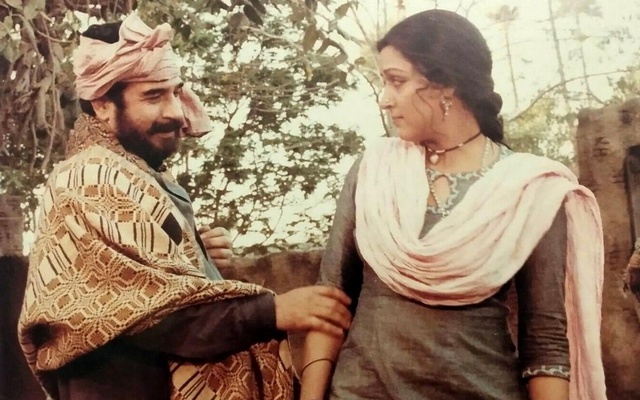 SHOOT LOCATION:
Mr. Dhadda shares that the film was shot in Mumbai film city to real locations in Punjab (Noormahal), Himachal (Palampur) and some villages of Haryana.
Was There Any Risk Of Shooting In Punjab During The Militancy Period.
We were given police protection in Punjab but we did not face any threat or problem. The film shoot took place smoothly in Punjab like it happened at other locations.
How was the response to the film?
I remember a critic of a renowned publication had bashed the film but years later he praised the it. Mostly the film got rave reviews. Film had performed well in Punjab, Rajasthan and in some other north territories but met with lukewarm response elsewhere.
Ek Chadar Maili Si was an honest adaptation of a popular Novel of Rajinder Singh Bedi, which talks of the old age tradition of Chadar Pauna (marrying the widow of Brother). It was a gutsy step of Hindi film makers to make a film on the subject when Punjabi film industry had largely ignored such earthy stories! Also Read : Do You Know About Amitabh Bachchan's Only Punjabi Film?
TRIVIA
1.Rekha was approached by makers for the lead role but it did not work out.
2.Raj Babbar had almost signed the film, but opted out due to date issues and was replaced by Rishi Kapoor.
3.Hema Malini considers it one of her best performances, she had confided to her close friends that a jury member of National Award had some issues with her and did not consider the film and her worthy of an award.
4.Years after Rano got shelved, Jaya Bachchan had asked Rajinder Singh Bedi to start the film. She was keen to play the lead role.
5.Rajinder Singh Bedi tried to revive the film in late 70s with Kirron Kher then known as Kiron Thakar Singh.
6.The film shot at various locations like Mumbai, Punjab, Haryana, Himachal Pradesh and Chandigarh.
7.A Haryanvi film, 'Sanjhi' was also based on a similar subject.
8.Ek Chadar Maili Si had clashed with Rajesh Khanna's 'Anokha Rishta', which was also based on the bold theme of an older man younger woman. It had close competition with other biggies like 'Karma', 'Naam', 'Samunder', 'Sada Suhagan' etc.
9.Hema Malini was pregnant with her second child, Aahna during some crucial scenes of the film. While she mostly shot for her scenes indoors at film city, Rishi Kapoor, Poonam Dhillon and other artists shot at outdoor locations.
Punjabi theatre and film actress Gurcharan Kaur Baggan had done the playback along with Asha Bhosale for the song, 'Marr Gai Marr Gai'.
11.Pakistani film, 'Mutthi Bhar Chawal' was also based on the same subject.
---