It's an era of social media where anything can get viral in no time.
Now, recently a spoof post broke the internet which stated that Prince Harry of the British Royal family mentioned popular Punjabi singer Daler Mehndi as 'Spare' in his latest biography.
The post claimed that Prince Harry turned to the Indian musician in his darkest hours. Published by @qualiteaposts, the post said as follows: "Prince Harry reveals music artist he listened to in his lowest moments in new book 'Spare'. "In the times I felt alone and separated from my family, I always took time to myself to sit back and listen to Daler Mehndi. His lyrics resonated with me and got me through a lot." Also Read : CM Bhagwant Mann Plans Film City In Punjab, Says, "I'm Here To Connect The Punjabi Cinema Industry & Bollywood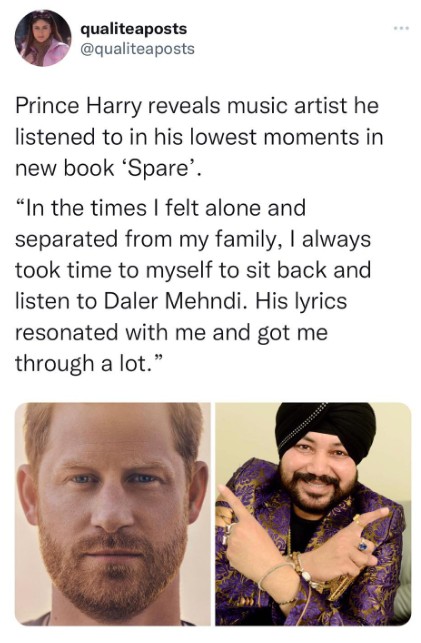 Well, this wasn't all as what was even more amusing was the fact that Daler Mehndi actually fell for the spoof and innocently uploaded a screenshot of it on Twitter with the caption, "I am grateful to the blessings of Guru Nanak, my parents, and my dad, I created a unique Pop Folk Ethnic Music Style. Love you, Prince Harry! God Bless you, in gratitude that my music helped you. @TeamSussex". Also Read : Street Talk: Is Love Really Blind?
This left twitterati in splits who reacted hilariously to the singer's response. While a netizen tweeted, "Who gonna tell him", while another wrote, "Oh Praaji ye to dhoka ho gya"
On the other hand, some of the social media users also came in support of the singer and argued to let him have his moment. "I don't think we should tell him. This is the cutest acceptance speech ever." said another user. "Let's let him have this win, pls," added a third person. Also Read : Gurbaksh Chahal & Rubina Bajwa's Twitter Account Get Suspended. Here's Why?
After receiving such a reaction on social media, Daler Mehndi once again tweeted a photo clipping of a newspaper article on the same and wrote, "Folks! Divine Wisdom roars to be heard. It says Daler Mehndi didn't fall for the joke tweet. He arose to spread smiles and happiness as he does in all his songs especially in Na Na Na Na Na Re!! Happiness shared Multiplies. DM Keep spreading Smiles and Happiness."
---